It features watery-blue finishes and one-of-a-kind pieces made from natural materials.
For a Brooklyn-based family, a lakeside cottage away from the city acts as a haven where they can connect, relax, and enjoy the outdoors. To make the home reflect that, they tapped Thom Filicia to reimagine the retreat—giving it an atmosphere that's both casual and sophisticated.
Located on Connecticut's Candlewood Lake, the waterfront home features five bedrooms and five bathrooms that cover about 3,000 square feet over three stories. "We wanted to celebrate the bones of the home and the vernacular of the location, which the homeowners fell in love with, while also giving the home an updated livability and fresh, clean style that fit the young family's lifestyle while at their lake retreat," the designer says.
Throughout the American cottage-style home, Filicia and his team incorporated furniture and finishes in cool, rich earth tones that pay homage to the retreat's serene landscape. In the kitchen, cabinetry painted in Benjamin Moore's Philipsburg Blue paired with textured stools and industrial accents all emanate a casual, inviting look. Geometric patterns, like the painted floor in the family room—and motifs, like hand-carved fish nightstands in the guest bedroom—add intrigue.
The charming abode now embodies the family's love of the outdoors and the home's storybook setting. At the summer getaway and weekend escape, they can play board games, rest after a long day of water sports, or simply admire panoramic lake views. "It functions like a large house but feels authentically cozy," Filicia gushes.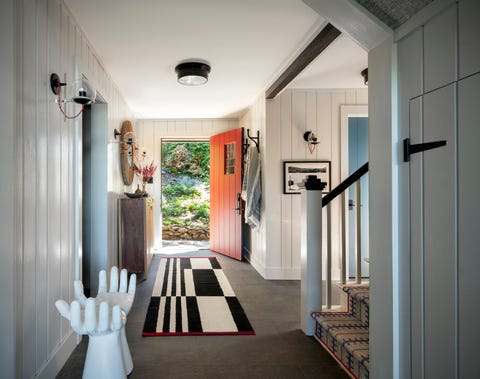 In the entryway, a large, round flush mount from Circa Lighting and orbit sconces with red twisted cords and clear shades from Urban Electric provide ample light from day to night. Playful touches—like the matte white ceramic hand stools from Sedgwick & Brattle—give the area character.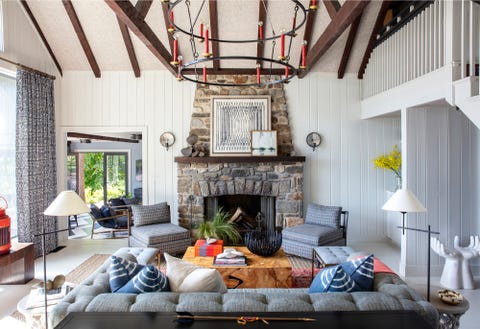 Sophisticated yet relaxed, the great room is packed with natural materials—including the stone fireplace, reclaimed teak coffee table from Harbinger, and dark exposed wood beams.
Sconces: Circa Lighting. Floor lamps: Olampia. Mantel artwork: Thom Filicia Home Collection for Wendover Art Group. Chairs and sofa: Thom Filicia Home Collection for Vanguard Furniture. Drapery Hardware: Thom Filicia Home Collection for Classical Elements, Kravet. Ceiling upholstery: Thom Filicia Home Collection for MDC. Jute Rug and black bowl: Sedgwick & Brattle. Accent rug: antique. Pillows: custom, Sedgwick & Brattle. Curtains: custom in Kona Marine heavy basket fabric. Chandelier: custom.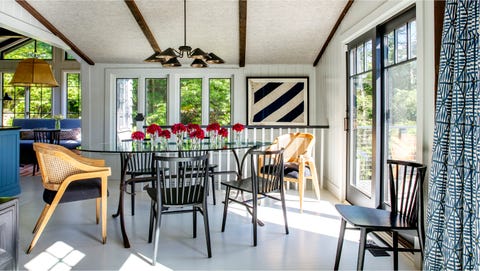 The walls and floors in the dining room were repainted to brighten up the space. The ceiling—upholstered in Madagascar: Pepper wallcovering from the Thom Filicia Home Collection for MDC—adds a bit of texture and coziness. Not to mention, the glass dining table and surrounding doors help keep the space feeling light and airy.
Chandelier: Currey & Co. Table: custom top with a vintage base from Sedwick & Brattle. Oak chairs: The Compound at Roundtop. Teak and cane chairs: Lucca Antiques. Wall art: client's own.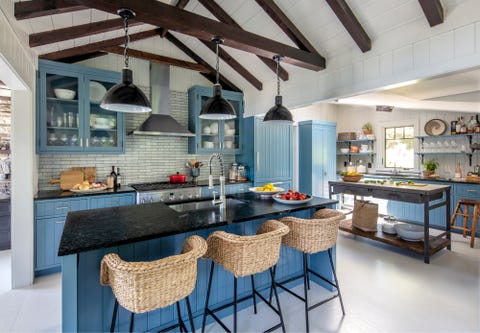 With cabinetry painted in Benjamin Moore's Philipsburg Blue, the open kitchen acts as an inviting family hub. Industrial elements like the galvanized deep bowl pendants from Barn Light Electric give the area an elevated touch. Seagrass stools with steel legs from English Country Antiques bring in delightful texture.
Backsplash: Ann Sacks. Faucet: Franke. Counter: ebony soapstone. Table: vintage.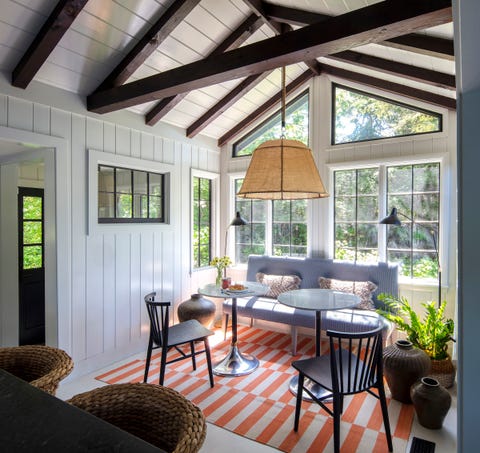 Ideal for enjoying morning coffee or a happy hour cocktail, the cafe-style breakfast nook features a custom burlap dome pendant from Sedwack & Brattle. The Apropos dining bench and Carpet Culture rug infuse serotonin-inducing color into the space.
Floor lamps: Circa Lighting. Chairs: The Compound at Roundtop. Tables and vases: vintage.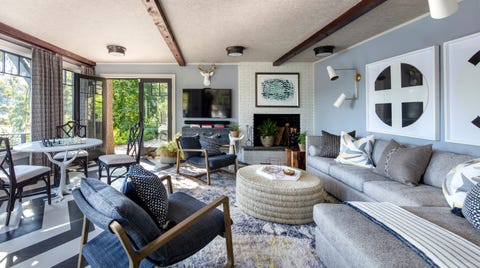 "One of my favorite design elements has to be the painted chevron floors in the family room," Filicia says. "They add a ton of personality to the space while keeping in line with the casual and cool point of view of the home."
Ceiling fixtures: Circa Lighting. Sconce: Generation Lighting. Coffee table: Mecox. Lounge chair, pillow (custom), and deer head decor: Sedgwick & Brattle. Wall art: Thom Filicia Home Collection for Wendover Art Group. Sofa: Thom Filicia Home Collection. Pillows: Thom Filicia Home Collection for Eastern Accents. Flooring: painted in Black Iron and Moonshine, Benjamin Moore. Table and rug: vintage.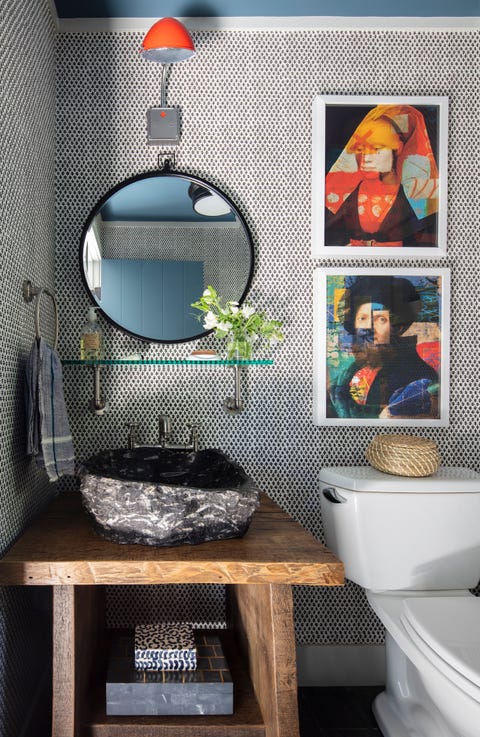 A mix of colors and patterns is prominent in the first-floor powder room. A John Roselli wallcovering acts as a backdrop for vibrant Renaissance-themed collages. A one-of-a-kind rustic fossil stone vessel serves as the sink.
Faucet: Signature Hardware. Mirror: Mecox Gardens. Wall art: Thom Filicia Home Collection for Wendover Art Group. Sconce: vintage. Shelf: custom.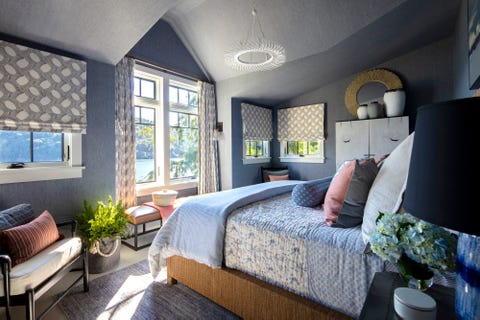 Facing stunning lake views, the primary bedroom features plenty of watery blues—from the Holly Hunt wallcovering to the custom bolster pillow in Rebecca Atwood fabric.
Chandelier: Mecox Gardens. Mirror: Palecek. Curtains and hardware: Thom Filicia Home Collection for Kravet. Duvet cover and quilt: Sedgwick & Brattle. Chair: Aero. Bench: Harbinger.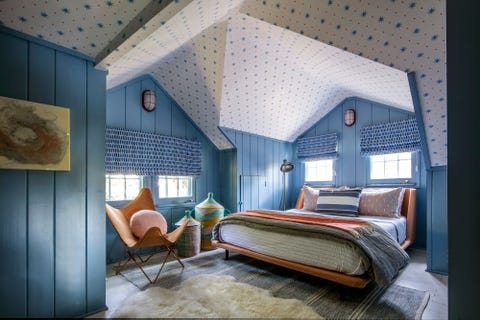 Up in the dormers, the kids' bedroom "feels a bit like you're in a tree fort," Filicia explains. "It's quirky and fun and feels like a space that the kids will remember when they grow up."
Wallcovering: John Rosselli. Wall paint: Denim Wash, Benjamin Moore. Sconces: Barn Light Electric. Curtains: custom in fabric by Kravet. Bed frame: BluDot. Rugs: Feizy. Chair: vintage.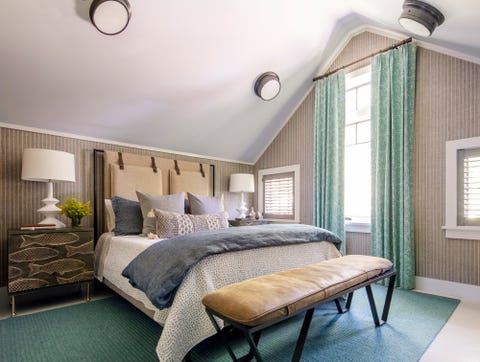 Hand-carved fish nightstands from Dartbrook play on the home's lake life theme in this guest bedroom. On the walls, pattern is brought in through a striped grasscloth wallcovering from Holly Hunt and custom teal curtains in fabric from Kravet.
Ceiling fixtures: Circa Lighting. Drapery hardware: Thom Filicia Home Collection for Classical Elements, Kravet. Rug: Feizy. Bench: Lillian August. Lamp: Sedgwick & brattle. Bed: custom.
Veranda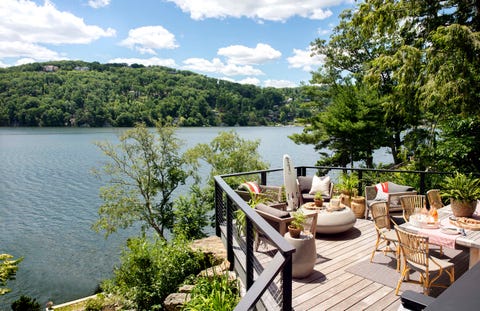 Suya bakan kayaların üzerine tünemiş veranda, uzanmak ve yemek yemek için katmanlı bir açık hava yaşam alanı sunar. Sutherland Furniture'ın doğal tik çıtalı yemek masasını çevreleyen rattan Serena & Lily yemek sandalyeleri. Salon alanında Azzurro Living'den el yapımı cam elyaf takviyeli beton sehpa, uyumlu bir yan sehpa ve Palecek'ten geri dönüştürülmüş doğal tik ve ip sandalyeler var.